Our Centre Community: Catherine Dinim
I look back on my childhood with fondness; it was so full of love. I grew up in downtown Toronto to American parents who had left the States because of the war in Vietnam. They were educated, intellectual people who thrived in the urban environment and the excitement of Toronto in that time. My mom had been connected to the Quakers a bit through her college years, and when I was a toddler, they decided to look for a faith community that felt like a good fit for our family. I grew up as part of a strong Anglican church community, with both my parents serving on committees, taking on roles and responsibilities, and volunteering on a broader scale with settling refugees through the diocese.
We spent many weeks of every summer road tripping across the States and Canada, visiting friends and family and delving into the offerings and experiences along the way. Those weeks in our camper van had a profound impact on me. I saw places that were so vastly different than my urban, privileged, educated community at home. I remember counting lawn ornaments with my dad in West Virginia, visiting the corn fields in Nebraska farmed by my mom's family since the 1860s, playing in the mountains of Wyoming at my uncle's cabin, fishing with my grandpa in clear Colorado streams. On a trip to Northern California at about age 12, I made a family announcement that THIS would be the kind of place I would live as an adult. I had dreams of a cliff side house with many children, goats, and a loom. Romantic stuff for an eastern city kid.
My high school years were spent connecting with friends, spending time as a camp counsellor, reading voraciously, and dreaming. I moved to the east coast for university, living in a tiny town with one traffic light, where all students lived within walking distance of campus. It was a time of huge growth for me. I made friends who stretched me: poets, artists, and people who wanted to connect on a deeper level. We were all creating ourselves, trying things out, experimenting with who we wanted to be. A good friend often took a bunch of us to his childhood home in rural Cape Breton on long weekends and reading breaks. His parents were back-to-the-landers, the flip side of the urban draft dodgers I'd known growing up. His mom Judy welcomed us with open arms into her simple gardening, weaving, community lifestyle in the woods. It spoke to me.
After university, my boyfriend and I moved to Nelson, BC. It was a fluke really. We'd been living briefly in Banff, a gateway for many young adults moving out west, and knew it wasn't the place we wanted to be. We drove around the interior looking for a place to move, and hit Nelson on a bluebird sky July day, cash in hand for our first month's rent. We got a place that afternoon. No jobs, no friends, but openness and trust, and of course, it all worked out.
After a couple of years, I learned that UBC offered a teaching degree program in Castlegar, and I jumped at the chance to go back to school for a year and come away with a degree that would allow me to become a teacher. I hadn't particularly dreamed of being a teacher growing up, but I loved children and had had exceptional learning experiences as a kid. My parents had taken a chance on a experiential, child-centred independent school that was just opening in Toronto in the early 80s. The teachers were creating a new kind of school, where kids learned in community, in mixed-age classes, with educators who were guides and facilitators rather than top-down authority figures. I only went there for a couple of years, but it shaped me as a learner, and it was the kind of learning experience I wanted to bring to new students. I enrolled in the program and found that year one of the most challenging of my life. The kind of school experience we were learning about in class seemed so outdated – the things I'd experienced 20 years earlier weren't even on the radar of many of the profs teaching me. Luckily I was placed with an exceptional teacher for my practicum, who offered me the space to try out my ideas in her classroom.
After leaving with my degree I got a job teaching high school English, Drama and Home Economics in Crawford Bay, a rural community outside of Nelson, on the east shore of Kootenay Lake. I split up with my boyfriend, and dug deep into myself in those years. I look back fondly at the growing, spiritual awakening, connection to my soul and self that was forged in that time. It was hard work, full of challenges, but there were exceptionally joyful times too. I'd gone to yoga classes as a kid at the local community centre with my mom, and followed along with books through my high school and university years, but this period was the first time I went regularly to classes. I also danced, both at parties and raves, and with weekly 5 Rhythms classes at the beautiful Gray Creek Hall. I felt like I was coming into myself, connecting with nature in new ways and spending more time alone than I ever had before. I met my husband Ishi at a party in Gray Creek and felt a super strong spark right away. We spent time together that fall. I had already decided that I was ready to leave that community, having given up my job, and planned to move to California. My parents had left Toronto during my Nelson years and were living in San Mateo, in the Bay Area. I put my stuff in storage and drove down, thinking of starting fresh, but my heart was already connected to Ishi's and I came back to BC just a few weeks later.
During this time, one of my good friends from the Kootenays had been spending time at Mount Madonna. First as a YSC karma yogi and then staying on for about a year. I visited her there and it was my first experience seeing an intentional community centred around a spiritual path. Not too long after that, I discovered that my new love Ishi had a connection to the Salt Spring Centre through his ex-girlfriend Maya, and that Mt. Madonna and Saltspring were linked. We came to the summer community retreat a few years in a row, but let our connection to the centre community lapse when work and then marriage and small children took our energy.
The first time I met Babaji, I was struck by his calmness and peace. He exuded an energy unlike any I'd ever experienced. I felt his power as a teacher, and as a guide. The sparkle in his eye and obviously love of both jokes and children drew me to him. I was skeptical of the idea of a guru, but Babaji didn't have any of that vibe. He seemed to be holding space for people to learn and grow in their own time, without expectations that their path would look a certain way. It resonated with me and spoke to me of the kind of teacher I wanted to become, but hadn't felt allowed to in my few years as a public school teacher. I saw Babaji as a guide and model, and the community full of life-long learners growing and stretching, whatever their age.
By then I had connected to an organization called SelfDesign, and worked to support families in natural learning, their children unfolding and learning in ways that worked for them in their homes. Through the power of the internet, I could email and talk on the phone with these families across the province and provide support, resources and ideas, as well as acting as a sounding board, counsellor, consultant and trusted friend. This was a new way to put my talents as an educator, and thoughts about learning, to good use.
Ishi and I got married in 2007, and had Stella in 2008 and then Zoë in 2011. I had started teaching at an alternative independent school in Vancouver, Pacific Spirit School, in 2007, and my kids and family became part of that community. The combination of teaching there, being supported to expand my natural, authentic style as an educator, and my deepening as a new mother offered huge growth for me spiritually. Motherhood has changed me profoundly and brought all my hang-ups, tight spots, and secret feelings to the surface.  It's both the hardest and the most amazing thing I've ever done. Ishi and I made conscious choices to parent in certain ways, spending a lot of time together as a family, and putting our values and intentions for our children to the forefront. I feel overwhelmed by the state of the world often these days, and keep coming back to the biggest work I can do, which is supporting my children and those I work with to hold on to their innate compassion and trust, to help guide them with open communication and unconditional love, and to model authenticity.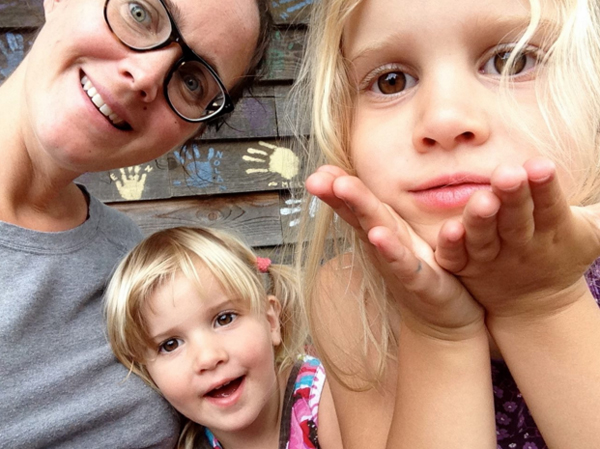 The last few years, Ishi and I have been coming back to the Salt Spring Centre and bringing our children to experience the magic of the summer retreat. To see them running with a pack, playing on the field while the first stars come out, singing kirtan in the pond dome, laughing at the Ramayana, growing in their trust of a community of adults who care about them, and forging connections with elders, is so special for us.
As I move into a new stage of my own life, as a mother of children who are no longer babies, and into my forties, I feel growing in me a new light. I'm being drawn again to learning more about myself, to feeding my soul and spirit in deeper ways, and I see the Salt Spring Centre of Yoga community as a foundation to do that.
---